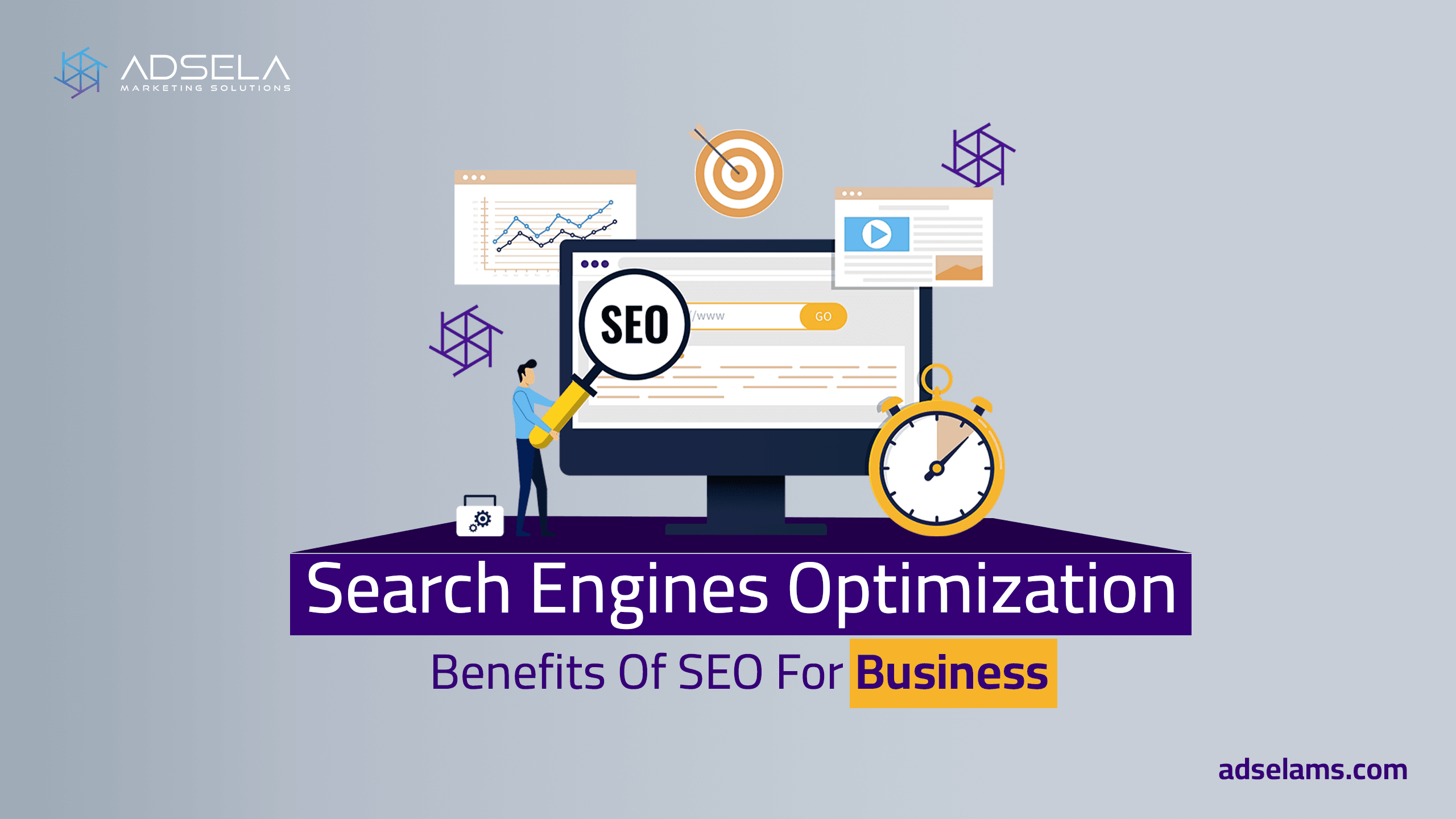 Benefits Of Search Engines Optimization
Search engine optimization or what is known as (SEO) is a term you came to hear often lately and many businessmen are interested in it out of the desire that their products or services would have priority in appearing in Google search engine so that clients would be able to access them without resorting to paid ads.
At the outset and so as to be fully aware of the various aspects of search engine optimization and its importance, you have to know the following:
First: what is search engine optimization?
Second: why have people been increasingly interested in or thinking of SEO?
We will start with the definition
What is Search engine optimization?
Search engine optimization is a set of practices according to the criteria of the Google search engine applied to websites in a way that enables them to appear on the first page of Google search results. Thus, this will increase organic traffic to your website. Let's give an example so that you deeply understand this definition. You might, for instance, want to buy a certain type of mobile.
Then, you will open the internet browser and type the name of the mobile brand you'd like to purchase. After that, several websites will appear to you on the first page of the search results. After that, you will visit one of these websites so as to know the specifications and details of the mobile because no doubt you would want to have some information on several aspects of the product before buying it like storage capacity, the processor, the camera, and the screen. You would also want to know the price, the warranty period, and sale points. If you'd like to buy it online, you'd probably want to have a look at the reviews of the clients who already bought the products, the available payment methods, etc.
All this happened for free without bearing any advertising costs. The website could attract you to click on it because it provides you with all the information you need as well as some details and images.
Therefore, business owners or all those who would like to optimize their website for search engines should pay great attention to the following. Here, we will know the answer to the aforementioned second point which is:
Second: why have people been increasingly interested in or thinking of SEO?
Google search engine receives on a daily basis millions of visits from users who search for the best answers to their questions through the websites that emerge on the Google search engine in accordance with the used keywords. Thus, both parties benefit.
The user benefits through accessing the answers suitable for him/ her and Google achieves its goal of presenting the users with the best possible experience.
You might be wondering right now:
What are the factors that direct Google search engines to show a certain website on the first page?
Dear reader, you will definitely know the answer to that after reading the answer to the following question:
Why should business owners be interested in optimizing websites for Google Search Engines?
First: It is the main source of attracting organic traffic or organic search to your website
You should realize that Google is one of the most popular search engines; for it is ranked first amongst search engines with roughly 75% of the search market share whereas other search engines like Yahoo and Bing, etc.
capture the rest of the market share; 25%. This means that Google's search engine captures a large number of daily visits and searches by users. Overlooking this fact will certainly cause you to lose many visits to your website and consequently lose profits.
Second: Search Engine Optimization achieving organic sales without bearing any advertising costs
Often, if your website effectively presents the information and details that the client desires, this will contribute effectively to increasing sales or conversion processes in your website. This will reflect largely on increasing your project's profits. It follows that you have to actively pay attention to the content you present on your website where you display your products or services.
Third: the search engine works 24/7
This ensures that your products or services are available online for your clients to view. It also ensures that your website, products, and services will be promoted even after your official working hours and on holidays.
Fourth: Raising awareness of your brand
Nowadays, the internet has become instantly and easily available at the fingertips of all users through smartphones. This resulted in an increase in browsing and searching rates, more than the users actually need. This helps you reach out to the target audience who are actually interested in the services and products you offer. So, in order to be viral and increase awareness of your own brand, you have to:
Understand what users or clients are looking for on the internet.

Be keen on providing the details that clients would like to know.

Use the relevant words that secure many visits to the website.

Present distinguished content that attracts clients.
It is high time to know the factors which direct the Google search engine to make a given website appear on the first page. What are the factors that direct Google search engines to show a website on the first page?
important Tools to use to rank your website
There are many factors that Google search engine optimization used to assess your website. Those include, but are not limited to, the following:
Keywords
Those are the words or phrases clients or searchers use on Google search engines to access the products or services for which they are searching. Thus, your website must include the search words or phrases relevant to the activity of your website in addition to the synonymous words or phrases. This helps greatly in putting your website first in search results.
There are several tools through which you can recognize the words most suitable for your activity and whether the search rates for them are high, moderate, or low. Some of the most popular tools in this regard are:
Keyword Planner
This is a free tool provided by Google to website owners to offer them proposed keywords according to a given country. It also provides statistics on how frequently people search for a particular word as well as several beneficial statistics for you.
SEMrush
This is a tool that enables you to define the keywords relevant to your business activity and related or synonymous words. It also highlights the rate of your competitors' use of it. This also enables you to define your competitors in the search domain. This tool is partially free and partially paid for. Through it, you can obtain statistics on your own website.
Google AutoComplete Guide to Rank Your Site
You may notice that typing certain words on Google search engines gives you suggestions in the search box. Those suggestions are words also used by clients in searching for the same product or service you are looking for. You can make a list of the keywords that appear to you and use them as well because they are considered to be words relevant to the products or services you offer. and it's about search engine optimization factors.
There are many tools to define keywords like Ahrefs Keyword Explorer. The keywords should be put in certain places on the website. Amongst the most important of these places are the following:
1- Title tags
:
This is the title under which your website appears on the search engine results page. When you define the keywords in search engine optimization, which can sometimes be the same as H1 and are made expressive of the title of the article, this makes it easier for the search engine to understand the topic of the webpage.
2- Meta Description
Meta Description is one of the most important rank factors in search engine optimization. This is the description that appears under the title tag. It appears to the users on the search engine results. It helps both Google search engine and users understand the theme of the page. This encourages the users to click on the results in accordance with their needs.
3- The content
Content is the King in process of search engine optimization, The website content should contain keywords. Further, it should be divided into headings; H1 expresses the main theme of the article and subheadings may include H2 and H6.
4- URL
The link or URL of your site's webpage should include the keyword; for it also facilitates the task of Google search engine to understand what the page is about or the topic of the page. It also appears on the search engine results page.
5- Internal Links
Pages should have internal links so that Google search engine could realize the link between different pages in a manner that helps in archiving. Internal links are considered an integral part of the SEO strategy.
6- Editorial Links
Those are links earned when you share your content in a way that renders your content beneficial and good to share via social media websites and others.
7- Acquired Links
Those are links acquired from other websites through adding content for promoting your website. Such content should contain properly acquired links.
8- Google feature

snippet
This feature makes your content appear in a distinguished way on Google search engine. This feature provides users directly with short answers to their queries and questions. Those snippets make your content appear first on the search results page.
Users can read those snippets without clicking on any given result. It makes your website receive several visits.
9 – The website's loading speed and mobile optimization
It is worth mentioning that most users search for the products or services they need using their mobile phones. Thus, you should realize that optimizing (search engine optimization) your website for mobile has not only become a necessity, but also your website's loading speed should be excellent when clients browse it. If your website is slow loading and browsing speed, this will inevitably lead to the client's leaving the website and going for another website to meet their needs.
You can examine the loading speed of a given website on mobile through the following site: https://pagespeed.web.dev/
After you've known the most important factors that direct search engine optimization to show the website on the first search results page, you should understand how Google search engine works. We will explain this to you in the next paragraph.
Google search engine works through:
SEO Spiders: those spiders gather words from the website's pages from the locations mentioned in the paragraph on keywords, and audit the language, images, Headings, subheadings, and how well they are distributed. They also audit internal and external links.
Then, they move all the data they gather to the search engine for the indexing phase which determines on which page the website will appear according to the group of factors explained before.
Does my website need a Search Engine Optimization Specialist or SEO Agency?
Seeking the help of an SEO specialist became imperative for your website. This provides your website with many privileges and merits and grants you a well-studied plan based on many types of analysis of your activity. It provides you with:
Technical analysis or technical reports on the vulnerabilities of your website. Besides, it provides you with a report on how to solve your website's technical issues to get more search engine optimization for your site.

The search engine optimization specialist would use several beneficial tools like Google Analytics, and Google search console on the website to help you know your website more deeply. Through those tools, he can monitor the progress of SEO performance and your website's target audience.

Proofreading keywords or phrases which are used by your target audience and are related to your activity or business so as to distribute them across the important locations on your website.

Providing advice and monitoring developing the content of your website so as to align it to the search intent of the user or clients; some clients may want to gather information about certain products or services while others may want to buy them. Thus, you should be present in all the phases of the user's research to ensure direct communication between you and your clients.
Optimizing websites to search engines has become one of the priorities many business and company owners think of regardless of the size of those companies and businesses so as to put their products or services first on the search engines in a professional way.
You can present your queries to or contact Adsela for E-marketing which provides you with search engine optimization SEO Services with distinguished strategies and plans to be ranked first on search engines.